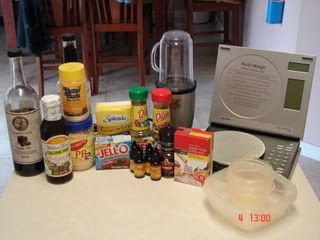 So I know some of us have a refrigerator full of eggs, cottage cheese, chicken, beef, peanut butter etc. You may even have a pantry full of oats, nuts, protein powder, etc. Those are just some of the food staples in my home. Then of course there are my other staples. ;) These are the things that make this lifestyle easier and fun! Of course you don't need to go out today and buy everything on my list here. Save that for tomorrow. LOL I am sure you have a list of your own, but here are a few of mine:
·Digital Food Scale– you don't need to buy a really expensive food scale, just make sure it has the option of ounces and grams. (scale shown is the Salter Nutri-Weigh 1450)
·Magic Bullet– in addition to my regular blender, I recommend the magic bullet. I can make yummy slushies, grind my oats, chop of fruits, whip cottage cheese smooth, etc. It seems to blend things smoother and finer than a regular blender. It is very convenient to take with you when traveling too.
·Ziploc/ Rubbermaid storage containers– you will see in many of my recipes that I use the Ziploc square container. It is a must! I also love the twist and loc containers to put my protein ice cream in.
·Sugar-Free drink mixes/Crystal Lite– I mentioned slushies briefly above. These packets are perfect for hot summer days. All you need is some ice,8-10 oz of water, and a drink mix and your set! My kids love them. J
·Seasonings/marinades– I love the McCormick Grill Mates for ground beef and steak. They even have one for chicken. I also love the Mrs. Dash seasonings for my steamed veggies. ·Butter Buds- need I say more? LOL A little sprinkle of this goes a long way on potatoes, veggies, etc.
·Splenda- This is a great sweetener when used in moderation. Stevia is also a great alternative to sugar.
Note: I now have stopped using Splenda and now use Stevia all the time . My favorite one is Stevia in the Raw.
–Sugar-Free Fat Free Pudding Mixes– these come in so many flavors! A lot of my recipes will call for a few grams of these mixes (just the powder) just to add thickness and taste. Amazing how a little of this really goes a long way.
·Powdered Peanut Butter (also known as PB2) This is one of my favorite post workout 'add-ins'. I am a peanut butter lover so I love to be able to have an alternative that has hardly any fat in it so I can use it PWO. www.bellplantation.com ·
–Walden Farms– this company makes an assortment of calorie free items. You should be reminded to again use these in moderation. I only use these things to add a little flavor to my recipes.
·Sugar-Free flavored syrups– Several brands are out there on the market. Davinci's is a popular brand that has many flavors: chocolate, vanilla, hazelnut, cookie dough, kahlua, etc. Perfect to add into shakes etc. I am sure I missed a few ;) But these are the ones I usually have stocked in the house. They make "dieting" (don't like this term) so much easier not only prepping wise, but we also want things that taste good. Well, at least I do. I will be posting up a few recipes soon.
Now that you have my list of 'other' staples, you are well on your way to making some yummy meals!
What are some of your staples?