Getting Creative with Breakfast-The Mini-Loaf
Like I mentioned before, 85% of the time, I don't mind eating the same things over and over. The other 15% of the time is when I begin to think outside of the box and get creative with my meals.
I actually never get sick of oats. Egg whites are a favorite as well since it always looks like I am eating a lot-volume wise :lol: However there are those times when either I am just not feeling up to the same thing, or I am in a time crunch and I really don't have time to cook up some egg whites and oats. Enter the mini-loaf :)
Now I am will give examples based on my meal plans working with Erik. However, ANYONE can enjoy these same ideas. Lets say that your first meal states the following:
6 egg whites
40g oats
35g berries
Looking at those ingredients above, initially you'd would think that I can't make the loaf I love because the recipe I use calls for some protein powder (I have seen recipes where they only use egg whites). But, like I said from the beginning, you need to look outside the box. I then went to a calorie info website (fitday, calorie king) and figured out the macros for the above items. I then tweaked the recipe to fit it almost perfectly. :)
Strawberry Cheesecake Mini Loaf
Ingredients

35 g oats (grinded up) or use oat bran
3 egg whites
1/3 scoop vanilla protein powder4 g SF Fat Free Cheesecake pudding mix
50g strawberries (could sub blueberries)
2-3 packets of splenda (optional
Directions: Preheat oven to 350 degrees

· In bowl mix ingredients together making sure it's blended well.
· Spray mini loaf pan with cooking spray.
· Pour batter into mini loaf pan.
· Bake for 35 to 40 minutes.
Nutritional Information: Makes 1 mini loaf
Calories: 282 Total Fat: 3.5 g Total Carbohydrate: 36 g Protein: 26.
Like I mentioned before, this recipe is based on my plan. You can change it where you see necessary. You can always make the loaf bigger or smaller. As you can see from the pictures below- it makes a large loaf! These are perfect for people on the go. I don't have to worry about making something in the morning. I usually make a few of these at a time and freeze them until I am ready to eat them. YUMMY!
Post-Workout ideas coming up next!! :D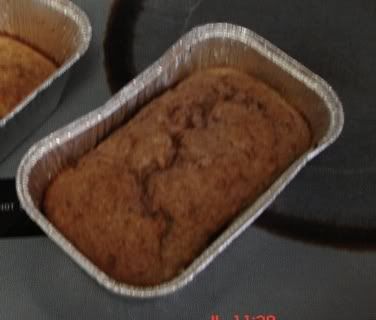 " />